This page is dedicated to new owners and their kittens
Honestly, Cathy is just amazing. Really cares about her cats and the kittens and is so knowledgeable and helpful! We have had our kitten for only a few weeks now and she is a happy healthy bundle of energy!
Their service is second to none ! kittens are just perfect in every way. Their kittens are a true credit to them. You get exactly what you would expect from a fabulous breeder.That perfect I go back for more. 
Nothing is a problem, questions are answered in depth. Fantastic to deal with.
Elara, Shadow, Starlight, Electra & Aurora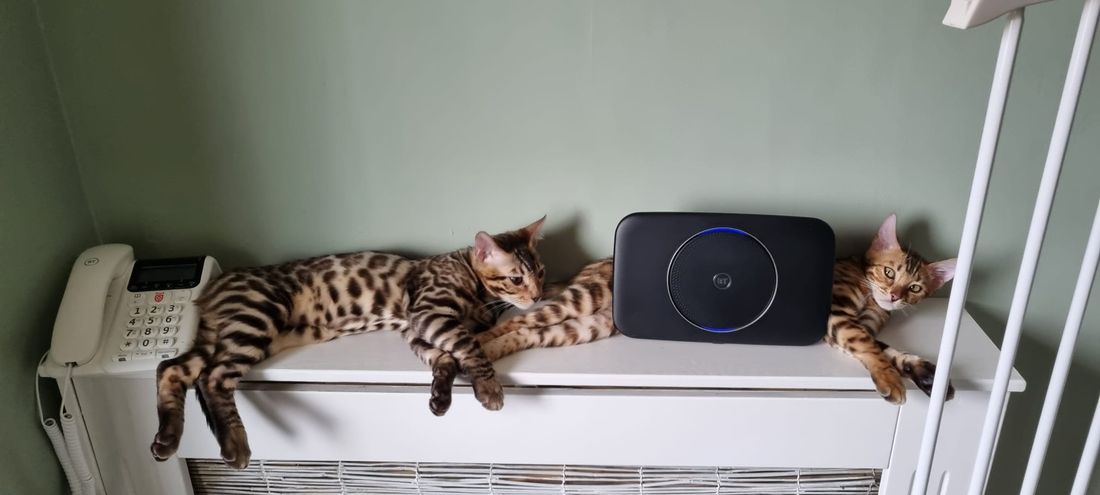 We wanted to get a cat to be our companion at home and on adventures, and started thinking about getting a bengal. Initially we had many doubts both about the breed as well as the ethics of breeding. We were recommended to look into Fairysnow Bengals and we are beyond the moon happy we did. Cathy is doing an amazing job being a responsible, loving breeder. When we went to visit we got the final confirmation that getting a bengal from Fairysnow Bengals was the right thing for us. Cathy is a true animal lover and provides all her animals (including alpacas!) everything they need and more. She has provided so much information, answered all our (million) questions and sympathised any doubts we've expressed. We got our little Nanouk delivered by Cathy's husband which was perfect for us since we don't have a car. We followed the settling in instructions we got from Cathy and already at Day 2 Nanouk has completely settled in, knows where her toilet and food is and loves to play and cuddle with us. She is such a wonderful addition to our little family and brings so much joy with her loving and curious character. We are completely in love with her and look forward to our adventures together. If we would ever get another bengal we would absolutely get one from Cathy, cannot recommend her enough!
I can't recommend Fairysnow Bengals enough. Cathy has been amazing from start to finish. We had regular photos and updates about our kittens, along with lots of really useful information about how to settle them into our home. They came with blankets, food and toys for familiarity. The kittens were litter trained and had clearly been really well socialised. Apollo and Artemis have only been with us for 4 days but they're already really settled thanks to Cathy's dedication and hard work.😻
I would highly recommend Fairysnow Bengals! We've got the most amazing little kitten and it's apparent that Mango was loved. Great communication from Cathy from the initial enquiry through the wait until the pick up day. If we ever want another kitten, will have no doubt to choose this cattery.